Kristy Nelson
Head of School
Head of School Kristy Nelson has worked in K-12 education for 26 years and has been involved with Trinity in some way for the past 12 years, as the Board of Trustees President, development director, teacher, and past interim Head of School. But her most important role has been as a parent, tasked with ensuring her children had the best educational opportunities for success. All three of her children are graduates of Trinity and she considers this school a second home for her family. Ms. Nelson has worked at several public school districts as well as two different Education Service Centers in Texas. She currently serves as a member of the Southwestern Association of Episcopal Schools Board of Directors, Trinity's parent organization. She also serves on several non-profit boards in the area. She has been married to Richard Nelson for 25 years.
BA in Broadcast Journalism: Texas Tech University 1993
Teacher Certification: University of Houston-Victoria 1997
M.Ed. in Education Administration: Lamar University 2008
Ed.D. in Education Leadership: Vanderbilt University 2021
Degrees
Master's

Bachelor's

Texas Tech University

(1993)

Master's

Lamar University

(2009)
Katherine Limoges
Asst. Head of School
Katherine has been with Trinity Episcopal School since 2011, starting as the school's Business Manager and later transitioning to the Admissions Director position in order to cultivate relationships with prospective and newly enrolled families. In 2016, Katherine became the Assistant Head of School to support our growing campus with a focus on our students' conduct and Christian behavior.
Katherine came to Texas after 15 years working for the Mayo Clinic in Rochester, MN, most recently as Director of Operations at the campus Wellness Center. A lifelong athlete, Katherine played college basketball at South Dakota State University where she earned a degree in fitness and wellness. She later earned her MBA at Cardinal Stritch University.
Katherine is a proud mom of a Trinity alumni and current St. Joseph student.
Degrees
Bachelor's

South Dakota State University

(1997)

Master's

Cardinal Stritch University

(2005)
Sasha Burns
Business Manager
Sasha Burns is originally from Oklahoma, but has called Victoria home since 2008. She received her Bachelor of Science in Accounting from Oklahoma State University in 1998. From there she worked for Intuit Inc. as a Tax Analyst/Software Developer. After more than 15 years with Intuit, Sasha decided on a career change and started working with Victoria Independent School District as a Teacher Intern. She began teaching 2nd Grade at Shields Elementary and moved to 4th Grade.
In her free time, Sasha enjoys being an active part of our Victoria community and sharing her time with friends and family. She is also the mother of former student Devin Burns. Sasha prides herself in the work she does and has an open door policy for those needing anything.
Degrees
Bachelor's

Oklahoma State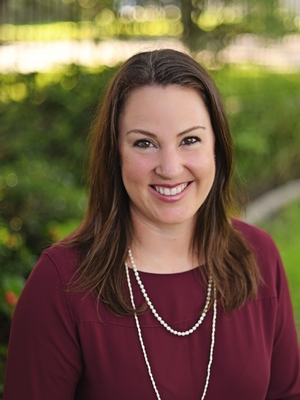 Cheryl Brumley
Development Director
Cheryl grew up in Victoria, TX and graduated from Saint Joseph High School in 1999. She received a Bachelor of Science in Nutrition from Texas State University in 2004. Before moving back to Victoria, she spent 6 years as a sales manager for Tiffany & Co and brings a strong background of customer service and business operations experience.
Cheryl married Seth Brumley in April of 2006 and they are proud parents of Waylon, a current Trinity student. She is a member of Saint Francis Episcopal Church and helps with their 2nd Sunday game nights, coaches baseball and basketball, and is renovating a 100 year old farmhouse.
Kimberly Tomasek
Curriculum and Instruction Director
Kimberly Tomasek is a 2007 graduate of Texas A&M – Corpus Christi. She holds a Bachelor of Science in Interdisciplinary Studies with a focus in Mathematics. She has been teaching since 2007 in both public school and private school settings. She has taught everything from 5th grade mathematics through High School Geometry. Her current position is Curriculum and Instructional Director. Her experience in the classroom has involved working with students at all skill levels; from the intervention level through Pre-AP. It is with great excitement and expectation that she looks forward to the upcoming year.
She is the proud wife of Darrell Tomasek, Senior Pastor of Northside Baptist Church. They have been married since 1997. She has two great boys. Bryce is 17 years old and Braden who is 11 years old.
Degrees
Bachelor's

Texas A&M- Corpus Christi

Texas A&M- Corpus Christi